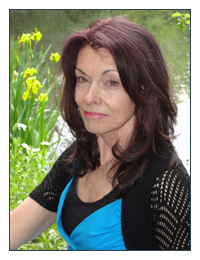 Brushing the Blue




Introduction



While we are searching for a richer, fuller life, most of us blind ourselves to the wonder of the immediate, the now. The world is wound pretty tightly and so are most of us, reasoning our way into tomorrow or struggling to untie the knots of our yesterdays. We are faced with a variety of situations that elicit the spectrum from joy to pain. In our humanity, we attempt to avoid suffering. Rather than facing our fears, our pain, we move into a fight, flight, or freeze mode. In this place, we also miss the sound of the birds, the color and texture of the ever changing sky, and the touch of breeze on our cheek. The rampant addictions and attachments that have weakened our culture shout our attempt to avoid reality.

In his book, The Sacrament of the Present Moment, Jean- Pierre de Caussade wrote that as humans, we share a flaw that creates so much misery we don't live too much in the present. The moments and hours of the day pass as we neglect to realize the significance of this truth: God is allowing our present circumstances and conditions through them, He is always speaking, teaching, revealing. This small book was written centuries ago by a French monk/clergyman, and it speaks clearly to us today.

God wants an intimate, powerful, rich relationship with us. He desires to show us how to be the people that He created us to be as we walk through each day of our lives. He wants us to deal with the reality that He has allowed and to submit to His will. We make our own choices, wise and foolish, and God responds as only He knows best. He is gracious and compassionate, but He loves us too much to leave us in our self created misery. Thus He presents us with countless opportunities to grow.

The obsession with control robs us of joy and weakens our ability to live creatively. We serve a creative God and we are made in His image. We are not wired to choreograph our own destiny; His plan is for us to seek Him first, above everything and everyone, and to creatively work with Him as we discover and implement our gifts and callings.

We have all experienced great loss as a result of our natural, Godless, self determination. This is the human condition when God is not the author of the equation. As we seek Him first, find Him, and humbly commit our lives to Him, alone, admitting our brokenness and need, He begins to show us how to relate to Him in Spirit and in Truth. This results in a blessed gratitude, without which we cannot recover from our losses.

Even when we have sincerely committed our lives to Him, it takes most of us years, or decades to begin to really live the abundant life that Christ died to give us. Our spirit awakens alive and regenerated at the point of conversion, commitment. However, our lower nature is easily triggered to jump, resulting in soul pain and chatter with all of its ramifications.

We are a spirit with a soul, in a body. Our soul consists of our mind, emotions, and will. As Christians, our soul has countless opportunities each day to connect with our regenerated spirit, or with our unregenerate lower nature which the Apostle Paul calls the flesh. Most Christians live out of their lower nature a lot. Our attempt to control our self, our world, and others keeps us miserable and feeds our flesh. God has a much better plan but He doesn't force us. Although He completely honors our free will, He works in our lives, our circumstances, our consequences in order to shake us enough to see His light.

According to the Word of God, we battle our unregenerate flesh, the world we live in, and the devil who roams like a fierce predator. In Ephesians chapter six the apostle Paul tells us to put on the full armor of God in order to win the battle that would destroy our soul. He exhorts us to put on the helmet of salvation with the mind of Christ, the belt of truth, the breastplate of righteousness, the shoes of the gospel of peace, the shield of faith, and to utilize the sword of the Spirit which is the Word of God. We must be prayerful, watchful, and persevering. Elsewhere in the New Testament we are encouraged to be wise as serpents and gentle as doves.

This battle is fought in our mind. Our thoughts and resulting attitudes generate our emotions which drive our behavior. Paul tells us to take each thought captive to Christ. This is much easier said than done but with the Lord's help, it is doable. That's where we come into the years or decades of misery, even as Christians. If we have lived for years allowing our thoughts to go unchecked, we can't expect to change quickly. Watchful prayer, perseverance, and the armor of God bring change in due time. The Bible teaches that as a man thinks, so is he. This teaching is crucial.

Once we say no to wrong thinking we must fill in the blank space with right thinking or we will lose the battle. In the book of Phillipians we are encouraged to think on these things whatever is true, noble, just, pure, lovely, of good report, praise worthy, or virtuous. Brushing the Blue speaks to touching all that is good and lovely, as well as brushing the blue skies that fade into grey and darken, where we are in danger of falling into what the blues artists call those mean old worried blues.

When I was studying Psychology in the late 60's, early seventies, Albert Ellis wrote about and implemented Rational Emotive Therapy in his practice. It made sense but was eclipsed by other more non directive therapies at the time. In this century, Cognitive Behavioral Therapy (similar to Rational Emotive) has proven to be a very effective way to help most people shed their self inflicted misery. It uses centuries old, Biblical principles to a large extent. I have found these principles to be true in my own life and in the lives of the women I work with in the discipleship/ recovery program that I lead.

Since June of 2011 when I finished the writing of my previous book, Fall and Recovery, a plethora of dark days has blown through my life layers of challenge gathered and rattled my world, but as we fight the good fight of faith, the black blues will wash white and usher days of azure for rest and relief. I am often reminded that life moves with frequent battles, but God, and He alone, is purely good. My hope is that this truth will penetrate as you read Brushing the Blue, and that you will draw closer to the One who created you and knows what is best to strengthen and refine you to live and finish well.

The poetry in Brushing the Blue is simply a reflection of what I know to be true as He works out His plan for my life and as I make every effort to seek Him first, above all. I often fail and that is evident in my poetry. Without mistakes learning cannot move forward, but His mercies are new each morning.

Because of His love for all mankind expressed perfectly through His death and resurrection, we can enjoy the forgiveness, peace, joy, and abundant life He has planned for us. Once we commit to Him, He incorporates His plan as we submit willingly to Him as Lord of our life. He works diligently with us to eliminate guilt, shame, and fear, helping us to rise beyond every negative emotion that besets us praise God!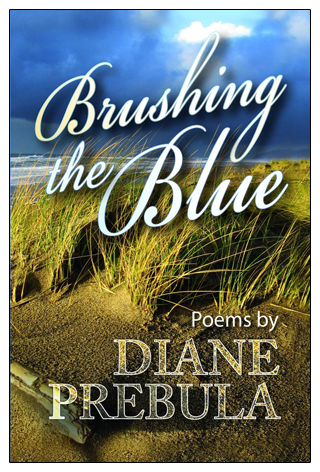 Iris

I said I would think of you
when the Irises broke through.
All over the neighborhood they sublimely shatter
the brash of post modern dominance, opening their jackets

to a lush of lavender. Sometimes I wonder if we will fall,
allowing all the details of these complex days to swallow us.
Will the waters rise and tumble our husks
into the gut of the green depths?

Will we ever again be able to create
something out of the passing wind?
Beyond a blink of movement
spins the sphere the substance

and evidence of our hope. I will expect favor;
I will wait for Him to show up to show us
something good. I expect that once we've done our part
it's out of our hands. So I wait.

Pride melts like wax at the presence
of spring irises; sensibilities expand
as we gaze into the open center of their simplicity.
Over that lavender spill of their petals we will seek His face.

Copyright © 2012 Diane Prebula, All Rights Reserved!

Settling In

When I came to rest at the place
You had prepared for me,
afternoon sun splashed in a wave
of welcome as I opened the door.

The back windows opened to the forest.
Cones of yellow birches flared up
into the deep ocean of autumn sky.
A clearing stretched beyond the crest of the hill.

Settling in to the praise of Your presence,
I sat out back in thanksgiving,
relief and joy. I gazed
into the earth of Your creation,

into a depth of Your love. Wordless
I just rested with You. When I focused,
only yards beyond the doors,
I noticed two deer settling in as well.

Copyright © 2012 Diane Prebula, All Rights Reserved!

Under Branches of Snow

In my impatience, I watch the stillness of winter
with flashing eyes. The sky clenches its teeth
and closes iron doors. I wince as they slam together;
my eyes tighten with the snap of the latch.
Nothing is moving.

Weary with pacing, my mind releases its insistence.
Snow will fall when its time is due.
Geese will appear and the dross will surface.
You will send them back by to brush their wings over the top;
as they call, You will quell the disconcerting darkness.

When You open the sky, snow will cover
our naked countenance with Your robes of comfort.
Our jaws will relax the cold reflex to gnaw. Sun will thaw the frost
that has checkered our vision and we will move again,
our eyes glittering under branches of snow through the blue air.

Copyright © 2012 Diane Prebula, All Rights Reserved!

Like Snow

You talk at me and you don€'t listen much.
You give me a lot of reasons
why you ca€n't carry your share of the load.
You've learned well to articulate,

to create an illusion of competence;
you've positioned yourself well.
I can wait it out time brings relief
and balance shakes out peace like snow.

The new season moves in, a slow tide.
Winter quiets my noise
as I walk through an avenue of trees.
The blue air burns with a light that sparks
a carpet of diamonds over the snow.

Copyright © 2012 Diane Prebula, All Rights Reserved!

When the Red Doors Close

When the red doors close behind me,
I step off the porch
of the old church building and carry my bags
down the sidewalk of trees.

The ladies from the shelter
in our basement and annex,
chatter and wave
from the covered table and bench.

The ladies and children from the program
laugh and bid me good evening
from the backyard. I wave
and sigh into the fingers

of breeze, trailing as I greet You again
just before I approach my car. I usually drive home
with the top open and let out the blues
of the day into Your relieving sky.

Today I am cloudy and reeling with slush
I feel as if I will soon be frozen. The cold
hands of wind are dragging
a plow through my countenance,

creating a gully in my chest. I am sliding
in the rain of surrounding disasters, but I remain upright.
Frequent shifts in weather create
the dependence on You that keeps me.

Tomorrow I will awaken with renewed strength
in my bones. Light but full of expectation,
I will move in the direction where I am called.
My place is in You.

Copyright © 2012 Diane Prebula, All Rights Reserved!

Winter Resolve

Let me move on like the passing fall that scatters
a heavy shaking of snow on the branches of the Maple
in my front yard. Closing the gap between us,
You scent my wake in evergreen. Let me leave more than I take.

You have taught me well, but I have not always listened .
Like a load of snow dropping
from the massive spruce outback,
my distractions weigh in a small avalanche.

Yet I press through the passing evening of these days
You've graciously given. Just when the drop of darkness
lands on my shoulders, You soak my bones
in the milk of the moon's wash.

Thank You for stars that perforate my vision
with sparks of fecundity. I will explore this breath of night
with joy as the sky shudders a shaking of snow my way,
and Your whisper sings, fresh, the scent of expectation.

Copyright © 2012 Diane Prebula, All Rights Reserved!