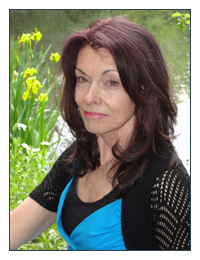 Years of Watermelon Ice

New and Selected Poems

Poetry tends to draw only a small group of interested readers. Most of the poets that move me are no longer alive, although many wrote in the twentieth century.
Raner Maria Rilke was a Bohemian-Austrian poet living from 1875-1926 who impacted me considerably with his Book of Hours.  Simply, but powerfully, he illuminates his desire for intimacy with God, as well as his love for the natural world, and great pain over the decline of the culture and the poison of our cities.  This book was written between 1899 and 1903.
One selection from The Book of Hours that particularly spoke to me is taken from 111,31 and 111,32 (the poems are otherwise untitled):
The cities only care for what is theirs
and uproot all that's in their path.
They crush the creatures like hollow sticks
and burn up nations like kindling.

Their people serve the culture of the day,
losing balance and moderation,
calling their aimlessness progress,
driving recklessly where they once drove slow…

And under these people your poor ones suffer.
All they see weighs them down,
makes them shiver and burn like a fever.
Evicted from where they lived,
they wander the night like ghosts…
burdened with filth and decay,
assailed by onrushing traffic,
its noise and lights.

If there exists a mouth for their protection,
may it open now and speak.
One particularly noteworthy influence on my life and poetry is the man and the writings of Thomas Merton.  From New Seeds of Contemplation I have taken this small sample:
What is the "world" that Christ would not pray for, and of which he said that His
disciples were in it but not of it?  The world is the unquiet city of those who live
for themselves and are therefore divided against one another in a struggle that
cannot end, for it will go on eternally in hell.  It is the city of those who are fighting
for possession of limited things and for the monopoly of goods and pleasures that
cannot be shared by all. 

But if you try to escape from this world merely by leaving the city and hiding yourself
in solitude, you will only take the city with you into solitude; and yet you can be
entirely out of the world while remaining in the midst of it, if you let God set you
free from your own selfishness…

That is why it is dangerous to go into solitude merely because you like to be alone.
Since my previous book was published, I have slowly moved toward retirement with the rescue mission in Boise. At this time I still do a little teaching and advising, but the demands of managing the discipleship/recovery program are behind me.  The impact that the people and the ministry had, and continues to have, on my life and my writing reveals to me, again, the gracious hand of our Lord .He shows us how his power works through, and in spite of our
weakness.
Years of Watermelon Ice contains many of the poems from my previous three books.  Since the first two are out of print, I formed this collection.  It includes a number of the new poems titled Strange Colors which continues with the themes of seeking God, enjoying nature, and struggling in this fallen world—at times exploring outcomes, and possibilities.
My hope and prayer is that this poetry reaches people who are on a similar path, or who are ready to move forward, to explore their journey with our Creator.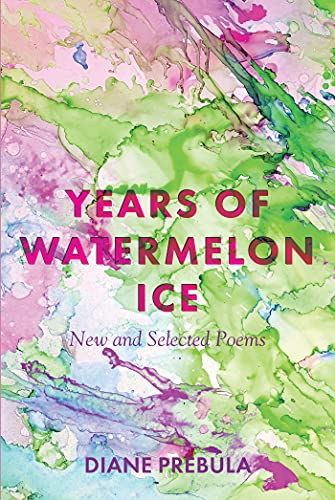 Strange Colors
I may not be in a Fellini film,
but I keep seeing Federico
poking around corners, or leaving
a distant table at the café.  I long for seabirds.
Many people are so accustomed
to the nonstop changes; they're absorbing
into this corporate unconscious, unawares…
and I long for seabirds.
Their everyday conversations often sound
like textbooks, or instruction manuals.  They're on top;
a splashing wake of self-importance stains their trail—
hear the crows rant. We all face this danger.  
With my back to this, I can smell the ocean. I may be
a bit more conscious, or not, but I admit my dance has taken
a quirky turn. Riding this ubiquitous wave of reality
elicits strange colors in all of us—more or less.
Thank goodness, I'm leaving for the coast.
Copyright © 2021 Diane Prebula, All Rights Reserved!
Butterflys in the Evergreens
Just arrived at McCall.  May Monday.
Open windows to the pines; decompressing
with butterflies on the balcony.
Bonnie Raitt slipping her earliest blues
through the windows and balcony door—
circa nineteen seventy-one (good year).
I brought the old stuff—
pre-Buckingham Nicks, Fleetwood Mac—
Show Biz Blues; Then Play On…
I'm hoping for a breakthrough, feeling stuck;
world is turning fast; sometimes
I tire of keeping up…
I don't dwell. Thank You, Jesus,
for allowing me to enjoy Your bounty,
and a few minutes from the bloom of youth.
Copyright © 2021 Diane Prebula, All Rights Reserved!
River of Light
For all the ladies in recovery at City Light—
past, present, and future.
Stillness melts to a dance of gratitude
illuminating the Son of new mornings.
Branches are budding—arms
lifting in praise to the Lord
of light and warmth, creator
of the arcing sun—Lord of all.
And each season sparks uniquely—
comforting glow, destructive blaze,
and all that flickers between;
He grants their moment.
Nothing breathes vanity
when we seek His face.
This fallen earth ignites beauty, death,
and all that pulses between.
But with every fall, He offers recovery.
He uses our forgiven flaws as a conduit
to kinship—connection—
His inscrutable love in action.
Copyright © 2021 Diane Prebula, All Rights Reserved!
Time Bends
Sheets pinned to the clothesline
dance beneath a lazuline sky.
Train wails in the distance.
Milk arrives in gooseneck bottles,
filling the box on the porch.
My grandfather takes off his hat
and wipes his forehead.  He leans
on the shovel and surveys his garden,
just beyond the lilacs.
Scent of apple and lilac; blossoms
blow through as I swing high,
leaning back.  Gladiolas
tilt in the breeze
as the train bellows,
and time bends.
Copyright © 2021 Diane Prebula, All Rights Reserved!
Mark of the Fall - Last Lap
Smoking traffic, crowds and congestion,
brew and cough with the rattle of stress;
fruitless complications—selfish efforts
damage and morph into despair.
But the hills continue to praise Your presence;
white clouds drift by in the quiet.  Silence
and solitude grow from the center of our ground—
under the false self.
From authenticity, our hope rises in You,
distanced from the post-modern landfill where
mockers feast. We must struggle with enemies, and stumble
through our flaws as we travel this world— but, we are not of it.
Copyright © 2021 Diane Prebula, All Rights Reserved!
Good News - Sunshine
What a beautiful God.
What a sheltering blue;
the sky draws me to
let go—slow motion.
White clouds intersperse;
white noise inspires rest.
I'm waiting on You—
the sun of Sundays.
You are the scent of earth
on a spring morning, the breeze
of late September light. You are birdsong
that lifts me through the day.
You hold my tomorrow
in Your promise, a butterfly rising
from the cup of Your hand—
sunshine.
Copyright © 2021 Diane Prebula, All Rights Reserved!